About MeriLynn (Padma)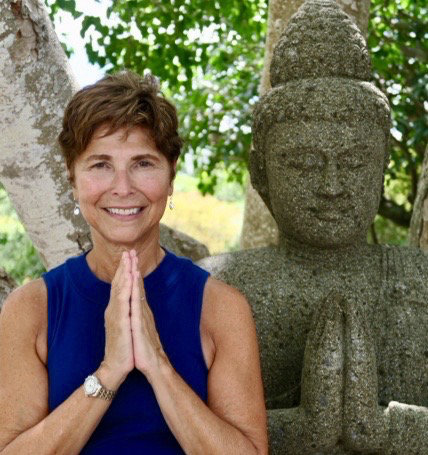 MeriLynn Blum, MA, MAT, RYT-200, took her first yoga class at the age of 18 and yoga has remained her path ever since. She received an MAT in Teaching English from Fairleigh Dickinson University and an MA in Psychology from Seton Hall University. She has taught English and dramatics at the high school level, pursued a career in advertising, working first as a copywriter and eventually vice president of a small sales promotion agency, and she has worked as a therapist at Seton Hall University and Drew University. She became a Certified Kripalu Yoga Teacher in 1995 and later a Certified YogaRhythmics/Kripalu DansKinetics Teacher. She remains a continuing student of yoga and has had the pleasure and honor of benefiting from the wisdom of numerous teachers, healers and traditions.
For over 21 years, MeriLynn has felt privileged to teach yoga classes, chakra inspired movement classes, workshops and private students. Her heartfelt mission is to joyfully offer the means by which her students can encounter and embrace the healing, wholeness and holiness of their being, and to experience greater health, compassion, love, wisdom and peace.
On August 5, 2010, in a sacred, traditional ceremony, MeriLynn was given the name Padma by her students.
Let my introduction of myself begin in gratitude...
I took my first yoga class at age 18 and when we chanted OM at the end of class, I thought we were chanting HOME because, for the first time in my life, I felt an "at-homeness" in my body, my heart and my spirit. It was simultaneously a revelation and a direct experience of peace and, blessedly, only the beginning of a personal journey. It is my pleasure and my privilege to share the fruits of my journey and the great teachings of yoga through my classes, workshops and private sessions.
I am full of thankfulness for all the teachers, guides and healers who have impacted my life. Starting with my parents, I am grateful for my family and my friends, teachers all, and most notably my beloved Frank who has been loving me and teaching me for over 50 years and, Jon, our son, who is a gift and a shining manifestation of our love and inspires me daily to live in truth so that I can support his bright light.
From my earliest dance teachers who taught the joy and discipline of movement, public school teachers who rewarded reading, college professors who invited expansive thinking, psychology professors who demanded self-inquiry, therapists who received me, supervisors who challenged me, body workers who touched me, yoga teachers who opened my body, heart, mind and spirit, clients and students who trusted me….I thank you all beyond words.
Gratitude to Nat Simmons for my first yoga class, Linda McConoughy for those early Sunday classes in your home, to Eileen Scully, for years of private yoga instruction one posture at a time, and to Rhonda Roehrich for re-igniting the fire. Gratitude for the divinely inspired wisdom of the great spiritual texts as well as the numerous more current writings on yoga.
I am a student of yoga first and a teacher only in that the fullness of what I have learned yearns to overflow. Of all my teachers across numerous traditions, I have been most profoundly influenced by the teachings of BKS Iyengar that opened my body, Amrit Desai that opened my heart, Connie Miller for the joyous dance and Anodea Judith who, through her contemporary understanding of the chakras, gave me a template for wholeness, integration and transformation.
And, of course, with love of the divine, the breath of God…I am that and you are that and it is all that.